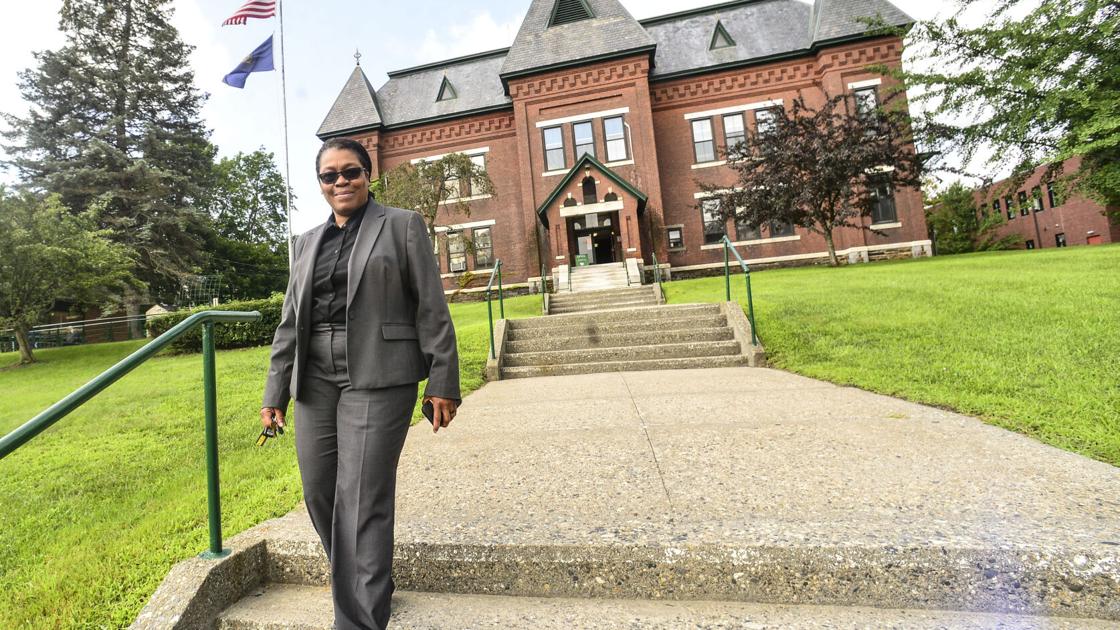 'Much work remains to be done': Brattleboro Select Board of Directors denounces racism against new police chief |
BRATTLEBORO – The Brattleboro Select Board of Directors began their regular Tuesday meeting by expressing support for their new hire, Police Chief Norma Hardy, and thanking one of their longest-serving employees, the Department Director of Public Works, Steve Barrett, for his retirement announcement.
Select Board Chair Liz McLoughlin began by noting that many people in the community are committed to taking action to support the city's most vulnerable members.
"All of this good work is being played against the backdrop of our common goals of anti-racism and fairness in the community," she said. "It makes it especially disheartening when we recognize that there are racists at play in the town of Brattleboro and that the actions towards our Chief of Police last week have been deplorable and sad."
On Monday morning, the Brattleboro Police Department posted on its Facebook page that it had received racist memes and comments targeting Hardy, who took over the department in late July.
"There is also no room for hate on this page, including instant messages," the post read. "This behavior should stop immediately."
In response, the Facebook page was inundated with messages of support for Hardy, Vermont's first black female police chief.
"I was happy to hear the many voices of support that hopefully drowned out all this hatred online," McLoughlin said.
However, she noted, "It just shows us that we have work to do in this city. We need to be vigilant to tackle racism in Brattleboro and continue the work we are committed to doing."
According to information received from the Brattleboro Police Department, the racist messages were sent by a single person, whom the department refused to identify.
Hardy arrived in Brattleboro after spending 26 years in the New York and New Jersey Port Authority Police Department. Hardy was head of this department, the first black woman to do so.
General Manager Peter Elwell also addressed the offensive memes and messages being directed to the new police chief.
First, he said he was proud of the ministry's "measured response" by placing a general statement on his Facebook page, affirming his commitment to keeping his page free from hate speech, "rather than calling specifically the person or individual act ".
"Given the difference in power of the BPD as an institution versus this individual who was acting in a way that was offensive to the work we do in the community, it was important that the police department's response to this did proof of restraint, "he added. Elwell said. "I appreciated that this is how they handled a difficult situation."
He also expressed his gratitude to the dozens of people who rallied around the city's new police chief by posting supporting comments.
"A cross section of the community demonstrating together that we are not going to tolerate hate speech and actions in Brattleboro," Elwell said.
Nonetheless, he was saddened by the reminder that "we have overt racism and other forms of hatred present here in Brattleboro".
"This incident underscores the need to maintain our long-term and continued commitment to intentional work against racism," he continued. "Both to tackle systemic racism institutionally and to deal with person-to-person racism when we see it. "
Board member Tim Wessel said in these instances "I am always reluctant to empower a very small number of people who have these ugly beliefs."
But he also said it was important to recognize that the city is committed to overcoming such manifestations of hatred and to making Brattleboro more welcoming to people who have lived here for a long time or to those who come from a foreign country. . Wessel was referring to the news that Vermont would soon welcome 100 Afghan refugees and that a refugee aid office would soon be opening in Brattleboro.
Ian Goodnow, vice chairman of the Select Board, said the behavior displayed towards Hardy was unacceptable, although it was "one of the many reminders I see living in Vermont that there is still a lot of work to be done. ".
Board member Daniel Quipp read a note from the city's last community safety meeting, a process that was initiated to examine how the city's resources are currently being used and how they could be used in the city. better to ensure equitable community health, well-being and security.
"We recognize that centuries of white people in power in our country… who are we… including here in Vermont and Brattleboro have perpetuated the systemic racism that has caused and still does harm to people of color across our country, including included here in Vermont and Brattleboro, "Quipp read, adding that he was not surprised by the incident.
"I know, for sure, that Chief Hardy is not surprised by this," he said. "We can go through our days being able to comment on something like this rather than living it fully."
Quipp said at first he wasn't going to comment, but "silence about it wouldn't be the right thing either."
"Chief Hardy has dedicated her life to public service and is an exceptionally skilled and experienced person to lead our police service," said Quipp. "I'm really glad she's here …
Elwell also announced the retirement of Steve Barrett, director of the Brattleboro Public Works Department.
"Steve has been on the town team since 1974," he said, including 33 years as a call firefighter with the town's fire department, and started as a pollution operator of Water in 1980, rising through the ranks to become Director of DPW in 1996, with responsibility for "the widest and most complex variety of services we provide to the community."
Barrett was involved in two upgrades to the wastewater treatment plant, Elwell said, building the city's first water treatment plant, planning and approving the replacement of that wastewater treatment plant water, construction of water storage tanks, traffic diversion for the installation of the Park Place / Linden Street / Putney Road roundabout and traffic diversion on Fairground Road as part of the renovation project from high school.
But perhaps most important, Elwell said, was Barrett's leadership in responding to "many emergencies and countless winter storms."
"In particular, Steve's actions on the day of Tropical Storm Irene and throughout the days and weeks that followed allowed Brattleboro to recover faster and more fully than many other communities," Elwell added. "It was arguably Steve's best hour, as he fully showed his rare combination of technical knowledge, courage and communication skills."
Elwell also announced that Dan Tyler, superintendent of highways and utilities for the city and deputy director of the Department of Public Works, will succeed Barrett as director of DPW.
Wessel said he was only 7 when Barrett started with the town's fire department in 1974.
"I wish him the best," he said, noting that he lived across the street from Barrett and they often chatted. "He leaves a whole legacy behind him.
Goodnow also thanked Barrett for his service, noting that "water and sewage is one of the things I really like to talk about."
"[Steve's] has always been so knowledgeable and kind and walked me through this as a layman and also shared a bit of his passion for it with me, "he added." I was very grateful for this energy. "
Quipp and McLoughlin also thanked and congratulated Barrett on his retirement and Taylor on his promotion.