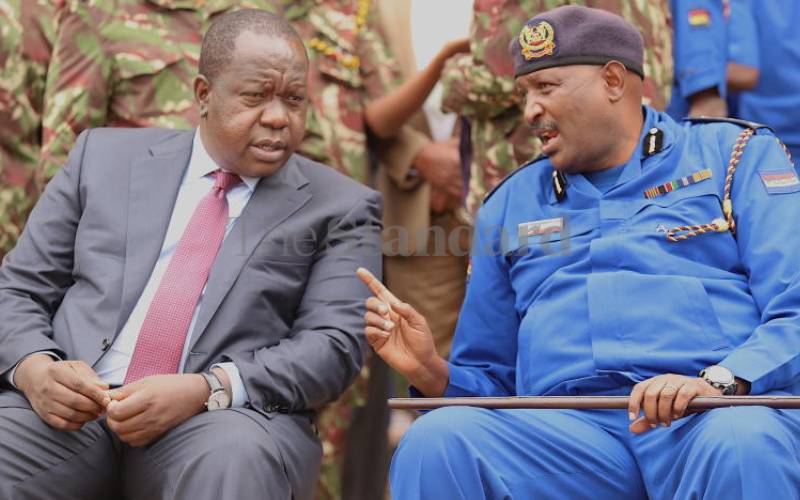 The law should give a clear description of what constitutes hate speech
Interior CS Fred Matiang'i said the government has put measures in place to ensure Kenyans have peaceful elections.
He added that a multi-agency team had been formed to, among other things, monitor vernacular radio stations and map so-called "hot spots" in order to make special arrangements for the deployment of personnel and resources to respond. adequately to the threat of hate speech and violence.
Since the 2007 general elections, Kenya has implemented a series of political reforms to foster national unity and combat rhetoric that threatens peace. This includes passing the National Cohesion and Integration Act (NCIC) which criminalizes hate speech and creates a commission that can investigate problematic speech.
Yet many politicians have been identified as causing ethnic discord and hate speech, especially during stormy political times such as elections. Despite the law and a commission charged with investigating such speeches, the prosecutions, and especially the convictions, are far from over.
Section 13 of the law prohibits discrimination and hate speech on ethnic grounds. However, many observers find the law problematic because it loosely and broadly defines "hate speech," making the law somewhat moribund when it comes to bringing charges against those accused of hate speech. Critics argue that the words "threatening", "abusive" and "insulting" are too vague and broad and even subjective.
For example, what one person would consider abusive or insulting would be perfectly normal or appropriated by another. Another challenge has been the lack of understanding of hate speech among law enforcement officials who are often too zealous to protect the establishment rather than seek justice. They seem to conflate offensive language against politicians with hate speech against protected groups, and thus end up illegally arresting and sometimes prosecuting people for partisan political purposes.
Another emerging area of ​​concern is the process and procedure by which the government determines and classifies so-called "hot spots" and what such a determination means for people residing in those areas. For example, if parts of the Rift Valley, Nyanza, Nairobi or Mombasa are classified as "hot spots", will the state's response affect the ability of residents to participate freely and equitably in the process? Politics ? Will they be criminalized?
To give it teeth, the NCIC Act must be amended to promote freedom of expression and free, fair and democratic political protest. It should clearly define hate speech, as required by the Constitution. Any legal mechanism aimed at combating hate speech must take into account the social and political context; speaker's status; intention to incite the public against an identifiable target group; and the content and form of the speech.
In addition, the scope and extent of its dissemination and the likelihood of harm, including the imminence of violence, must be taken into account. Until we amend the NCIC Act to address this, we will continue to have toothless law that does not meet our needs.